Spa Options

Ozonator
The use of chemicals will be cut down to the bare minimum with our advanced corona discharge ozone sanitation system. This technology injects all-natural ozone into the water chamber oxidizing contaminants and returning the purified water into the spa through a dedicated ozone jet. Keeping your spa clean and pure is simple with an ozonator.

LED Lighting
The LED lighting package will make your hot tub become a focal point of your home after dark. The soft light warms the spa atmosphere and enhances your mood. Advance through lighting modes with the press of a button to find just the right color.

Stainless Steel Jets
The shiny " chrome like" finish of the Stainless Jetting ensures a classy look while offering a durable rugged finish that remains attractive for years to come. This package is a great way to further customize and beautify your hot tub.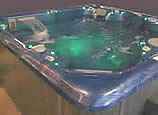 Motion Glow Lighting
Enjoy the radiance of a soft color wash illuminating your spa and the area around it. A simple press of the button and the computer generated digital lighting allows you to select a rotation of changing color or a permanent display of your favorite tone. This package includes individual pin lights along the spa edge and operates in sync with the LED underwater light.